---
Musicman 1
---
---

Smokey Robinson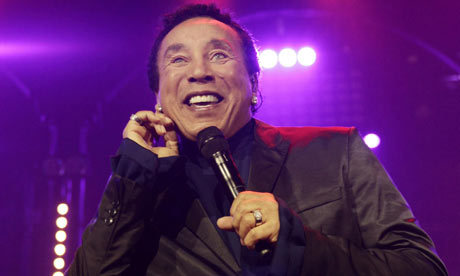 "You guys sound great!" gushes William "Smokey" Robinson as a sold-out Electric Proms audience help him with the chorus of I Second That Emotion. But self-effacement was the least of his gifts on display here, as the 69-year-old gave a masterclass in pop vocal performance.
Paul Gambaccini's introduction sketched Robinson's full and uncommonly successful CV. As well as being at the birth of Motown 50 years ago with the Miracles, Robinson was a producer and, from 1961, vice-president of the label. And his work as songwriter provides an immense catalogue of magisterial pop and soul songs. Yet this show was all about Smokey the singer: a man with a voice age seems unable to wither.
It's hard to think of a singer of comparable stature who's anywhere near as compelling a performer today. On his most recent British dates, Stevie Wonder seemed unable to differentiate between moments of inspiration and bouts of cringe-worthy self-indulgence; Andy Williams's voice is increasingly frail; for all his manifold gifts, no one actually goes to a Bob Dylan gig to hear him sing. Robinson is arguably the last of the great song men left standing. If anything, his slightly increased huskiness – the only audible difference between the Robinson of today and the one who first had a hit with Shop Around 48 years ago – adds to his range, allowing for greater shading of those songs' rich details.
Relishing the opportunity to show that he's "a songwriter fan" too, Robinson played a couple of tracks he didn't pen. He slipped into Don't Know Why, a hit for Norah Jones, like it was a favourite pair of shoes; his understatement adding heft, even if he perhaps overdid the vibrato. And while his reading of Fly Me to the Moon started with him not really singing, and got caught up in a spiralling jazzy coda where the words became less important than the stylish vocal extemporisation, he remained in complete control.
The finest moments came where singer and songwriter stood as one. A brief trot through Get Ready, one of the hits he wrote for the Temptations, was a revelation; he abandoned his falsetto for a raw, almost feral tenor, emphasising the song's latent menace. The potentially crippling over-familiarity of Tears of a Clown was avoided with an arrangement that made the most of the BBC Concert Orchestra who helped Robinson relocate its ability to affect. But he saved the very best to last, with a breathtaking The Tracks of My Tears, slowed down and sparsely arranged to wring out every last drop of its vast emotive power.
Angus Batey
.....................
A recent review from the Guardian newspaper pretty much paints the picture...!! Bob Dylan anointed this man "America's greatest living poet"......and he is......!!
The Music
The Agony and the Ecstasy
http://www.youtube.com/watch?v=729M1PcAZeo
Oooh Baby Baby...
http://www.youtube.com/watch?v=729M1PcAZeo
You really got a hold on me.....
http://www.youtube.com/watch?v=Y2EsZpobWJs
I second that emotion.....
http://www.youtube.com/watch?v=1tAUDiS4rak
Tear of a clown....!!
http://www.youtube.com/watch?v=hxj1hP3dxdg
Tracks of my tears..!!
http://www.youtube.com/watch?v=8-wd3Y4ZFtY
Being with you.....!!
http://www.youtube.com/watch?v=qV7XlZPdzZI
Just to see her...!!
http://www.youtube.com/watch?v=BSaRettxDko
Sleepin in...!!
http://www.youtube.com/watch?v=EShiGCQUOpc
Quiet storm....
http://www.youtube.com/watch?v=iCZ22D2SRD0
---
---
---

Copyright © 2010. Musicman 1. All rights reserved.